11. Ai Yazawa: Nana and Paradise Kiss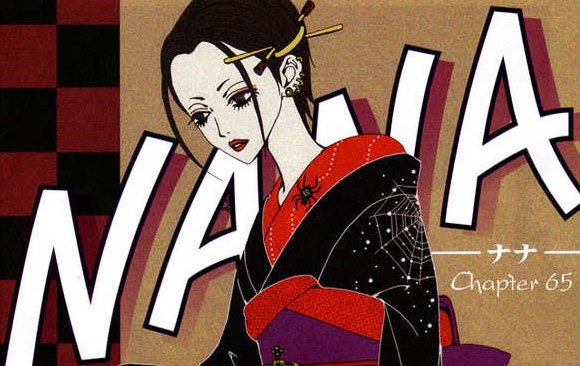 Podcast: Play in new window | Download (Duration: 57:11 — 52.4MB)
It took one manga digest of the series 'Nana' and I was hooked. It was as simple as that. The artist and writer behind the series is Ai Yazawa. I've never read a serial comic that I get so involved in. After reading an issue of 'Nana', I'll obsess over it for days and re-read it at least 4 more times in the ensuing weeks. Confession time: For the past 2 years I haven't been collecting comics like I used to. The cost, you know how it is. But I always, always bought the new 'Nana.'
Ai Yazawa is a Japanese Shojo comics artist and writer. As a writer I find her dialogue and characters more sophisticated than your average Shojo. She really brings romance comics to a new modern level. Her storytelling is so natural, so heartfelt, so honest, so humorous, so raw, so sweet, I find myself instantly involved in the characters lives. I also find her writing to be feminist and forgiving. The two series I'll be talking about, 'Paradise Kiss' and 'Nana', are about young women rebelling against the future set up for them by parents or society, trying to be independent and make it on their own. Art wise Yazawa is deft at exuding emotion with the simplest line. Her style also fluctuates between the silly and the serious. She excels at both. Her comics breathe fashion, music and love. It's mostly punk/gothic/lolita stuff with a bit of haute cuture, sugar pop and trash thrown in.
Paradise Kiss
In doing research for the show I discovered the only other series of Yazawa's to come out in English was, 'Paradise Kiss.' A five digest mini series that started in 2000, 'PK' takes you in and out of the turmoil of being a teen, a teen surrounded by wacky fashion designer/art students. The main character is Yukari, who's in love with George. She's the studious student kidnapped into the world of fashion. George is the designer with plenty of designs on Yukari.
Though common in Japanese comics I especially liked Isabella, a trans gendered boy who makes a beautifully stunning woman. The mother figure in the book, she is constantly breaking the fourth wall.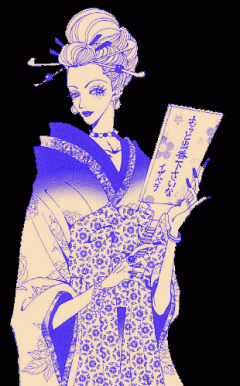 The trajectory of this comic was very unpredictable. Not the typical love story, nor ending. It's an awesome series, awesome!
Nana
'Nana', so far, is a 15 issue, manga digest series. Originally published in Japan in 2000, it is considered the 'All time, best selling, Shojo title in Japan!' It's Yazawa's 7th series, so it comes across exciting, complete and polished. Of course I'm a little biast, I grew up obsessed with 'Jem and The Holograms'. 'Nana' definitely has "Glamour and glitter, fashion and fame." in spades.
The basic plot is; two very different girls named Nana meet and become roommates and friends. GothPunk Nana is trying to make it as a singer in a punk/goth/rock band. Hatchi Nana on the other hand is just trying to survive, taking one job after another and obsessing over every boy that crosses her path. It's true soap but it's gripping.
The art to me, is sublime. Skinny legs and all, meringue dresses and perfect hair. Yazawa draws it and then uses computer for patterns of clothes and backgrounds. I also adore the typically Japanese super deformed moments. It's really a marvel to read.
Because it's a Japanese creation it comes with all the accoutrement's. I have a wall scroll, some beautiful playing cards, you can get jewelry, there are a couple of movies, (the first 'Nana' movie is a definite MUST see for any fan.) a cartoon series, a few art books that I'm dying to see and at least 3 video games.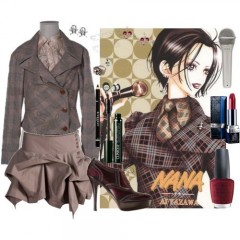 POSTSCRIPT
It's mind boggling to me that she was doing both 'PK' and 'Nana' at the same time. I mean I know she had assistants, but it's uncommon in comics to be artist and writer on two different series, being published simultaneously, while maintaining such quality work. I also find it interesting that Yazawa specifically chose to write one series from the teen point of view and the other from women in their twenties. Also now in the later issues, it jumps to the future at odd intervals. I can't wait to read the next ones. (Actually, secretly, I already have. www.mangafox.com has translated up to issue 20. It's a wicked website, I wouldn't have been able to read 'PK' without it. Seriously, www.mangafox.com for all your free manga needs.) My mission now is to find subtitled versions of the 'Nana' cartoon and 'PK' cartoon.
P.S. At one point during the show I say, "If I didn't like the art, I wouldn't be interested in this comic at all." I meant I wouldn't have been initially attracted to the book, to want to read it. Not that the art is the only thing good about this series. Got it? Good. 🙂
P.S.S. I found this online, soooooooooooooooooooooooooooo cute. It's Miwako, from 'Paradise Kiss'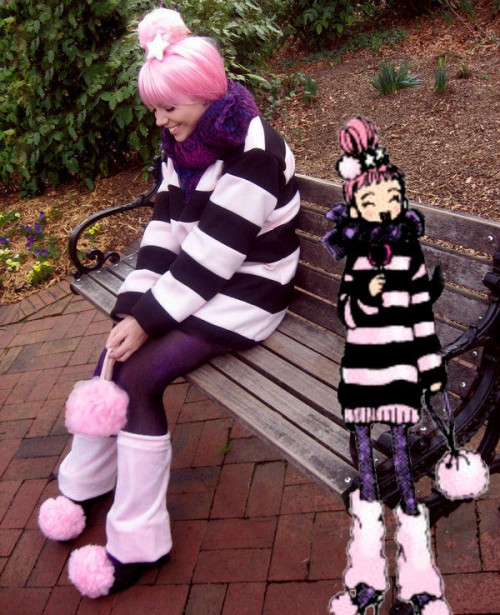 PLAYLIST
Osaka Popstar and the American Legends of Punk – Astroboy Theme
Tommy Febuary – Lonely in Gorgeous
Tommy Febuary – Is this Feeling Love?
Mika Nakashima – Glamorous Sky
Yuna Ito – Take Me Away
Anna Tsuchiya – Lucy