7. The 'Playboy' Cartoonists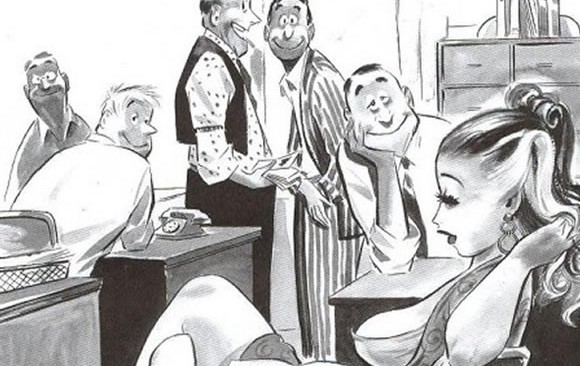 Podcast: Play in new window | Download (Duration: 56:57 — 52.1MB)
So I've set this mandate for the show. If the creator is reachable and alive, then I have to interview them. Due to time constraints, lack of website for a little while and lack of guts, it limits my subject matter sometimes to dead creators and non English speaking creators. This week I'm doing the Cartoonists of 'Playboy'. (grin)
'Playboy' was started in 1953 by Mr. Hugh Hefner. After 2 years in the army and graduating from the Chicago Institute of Art, Hugh decided to surround himself with beautiful women…….forever. 'Playboy's' first cartoon was done by Ben Denison. Seven issues of "The Playboy Cartoon Album" came out between 1963-1980. In 2004 Chronicle Books published 'Playboy: 50 Years of Cartoons' and while beautiful, it was not as detailed as I would've prefered.
The impetuous for the show was that I actually own 4 "Playboy Cartoon Albums" 2 were a huge variety of artists and 2 focused on a specific artist. I love these books. They are glossy, full page, mostly full colour. Every page is an absolute visual treat. So sumptuous, and not just the ladies. (Insert eyebrow wiggle here.)
Shel Silverstein
The first artist I'll be speaking about is Shel Silverstein. I work in a daycare and I am constantly brainwashing the kids on Silverstein, one way or another. I love the wonderful paradox of Silverstein, artist of 'Playboy', man about town and Uncle Shel, beloved children's book author. Not to mention the music he's made for other people. Ever hear of a "A Boy Named Sue"? Shel. Or "Cover of the Rolling Stone"? Yep, Shel too. Though my personal faves are "I'm Being Eaten by a Boa Constrictor." and "The Unicorn."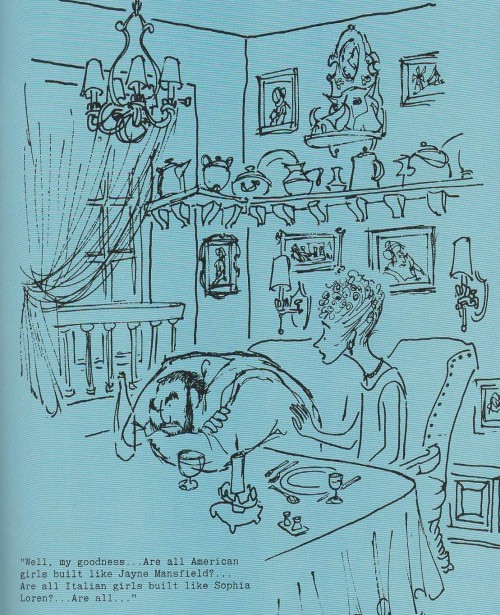 Now his 'Playboy' cartoons are a whole different ball of wax. Hef just gave him money, to go where he wanted and to do cute, clever, cartoons about it. (Cartoons in this case means, one panel gag comics, as oppose to animations.) Talk about the perfect life. Shel's cartoons really epitomized the free wheeling 60's. Or at least what I'd imagined it to be.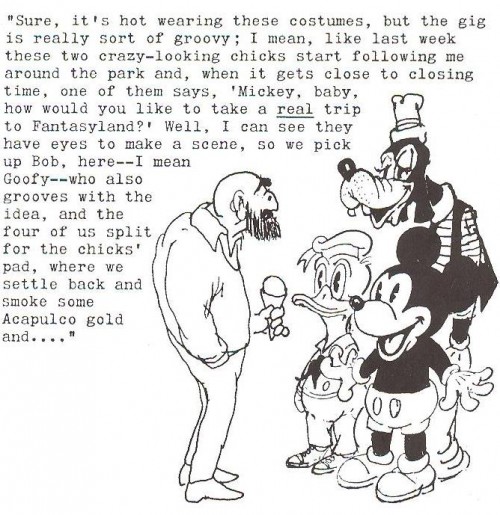 His line goes with the flow and is not rigid in the least. His people are natural and normal. Check out Shel's ever present hunch. But his humour is what I always loved best. All the Silverstein cartoons here are from an awesome book called "Playboy's Silverstein Around the World." Definitely a must for any adult comic fan.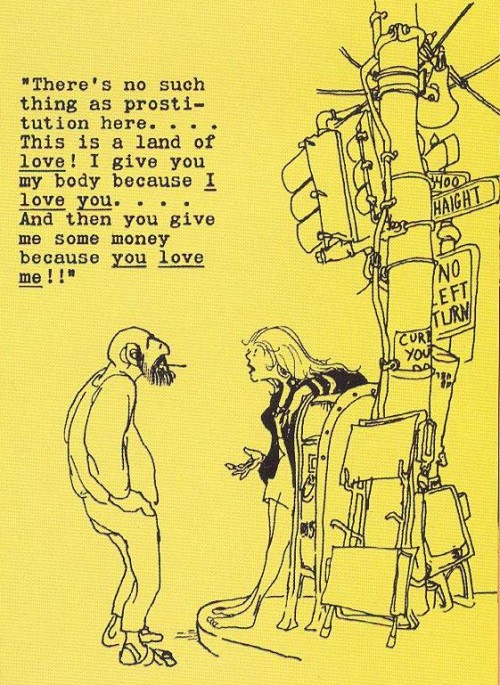 Eldon Dedini
Eldon Dedini's career was published in a 2006 retrospective by Fantagraphics called "An Orgy of Playboy's Eldon Dedini" His art is such a pleasure to look at. Chubby women, cavorting naked, beautiful vibrant colours, amazing outdoor scenery. This art was so beyond what anyone would expect to find within the pages of a nudie magazine.
Gahan Wilson
Gahan Wilson is not only an excellent cartoonist, his humour is dark and whimsical. Again, not something you would expect within the pages of 'Playboy.' Wilson makes you think with his visuals and laugh at its strange morbidity. His cross-hatching creates untold depths and claustrophobia all at once. His gags are slow to notice, but make you burst outloud when your eye finally notices the visual gag. Carrying on the Charles Adams legacy, Wilson still contributes to the magazine.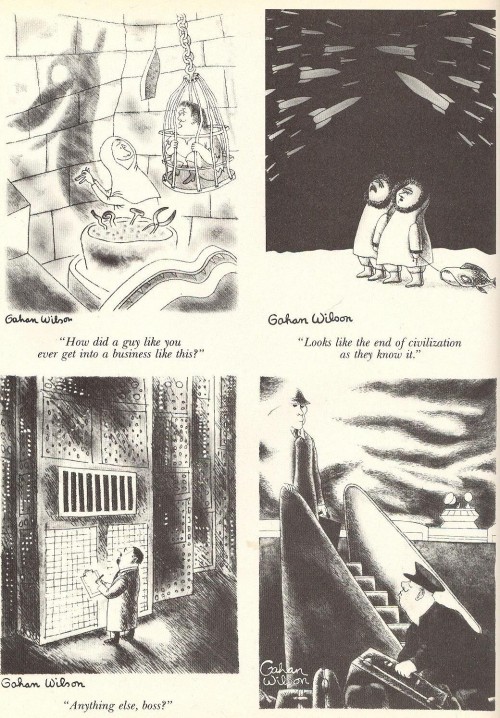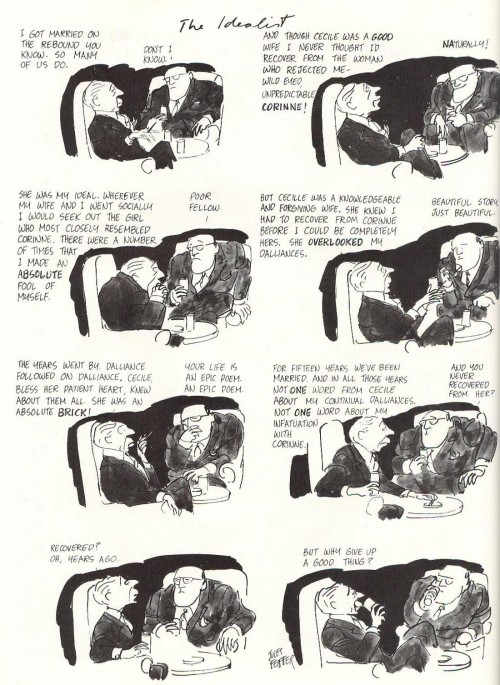 Jules Feiffer
Jules Feiffer has had such a long and varied career, there is hardly any reference to his work with 'Playboy.' Except to mention that he only did it for 10 years. I'd imagine contributing to 'Playboy' offered Feiffer a chance to be even more acerbic about his social observation, than The Village Voice. He definitely rounds out the selection, providing very different comics then the half naked girlie staple.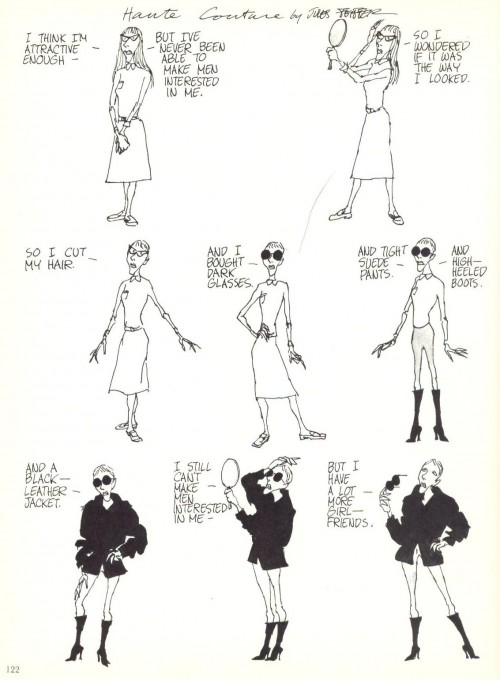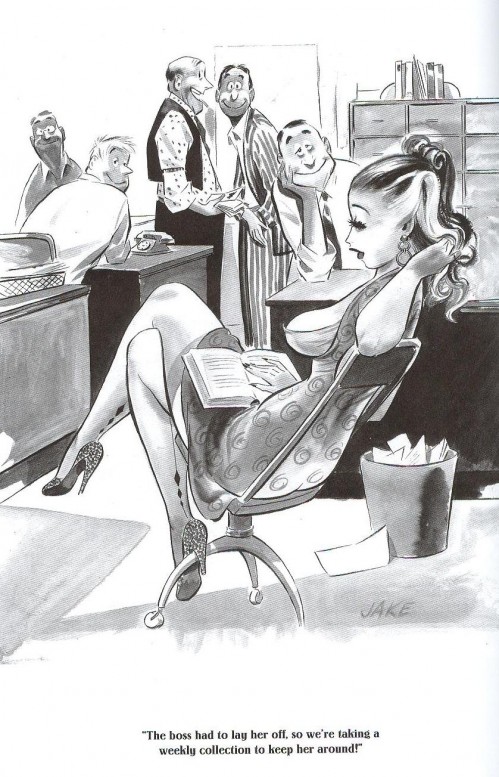 Jack Cole
Jack Cole was a superhero cartoonist who came to 'Playboy' a little later in his career. Known for illustrating DC's Plastic Man, Cole's work for 'Playboy" was sublime. There's nothing else I can say, the work speaks for itself.
Phil Interlandi
Phil Interlandi is totally indicative of the standard 'Playboy' cartoonist. But even the average in 'Playboy' is better than one would see most anywhere else.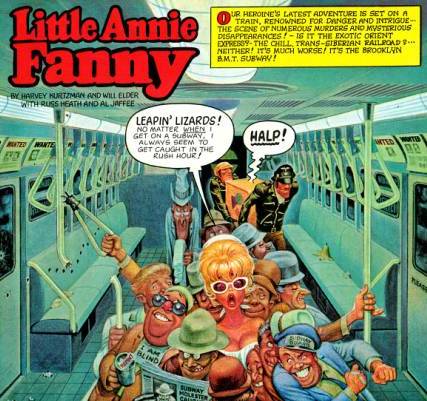 Harvey Kurtzman and Will Elder
Harvey Kurtzman and Will Elder created Little Annie Fanny for 'Playboy' in 1962. It was obviously based on 'Little Orphan Annie", with an adult twist. Every episode would invariably end with Annie in trouble and naked. Annie showed up off and on up until Kurtzman ended it in 1988. Storylines borrowed much from popular culture. Annie would find herself caught up in Beatlemania or Disco, depending on the era. Kurtzmen and Elder shared the writing duties, while Elder mostly did the art. But Jack Davis, Russ Heath, Al Jaffe, Robert Crumb and Gilbert Sheldon have also contributed.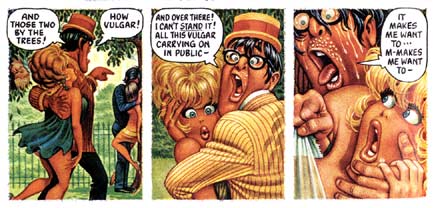 POSTSCRIPT
I really feel that Hefner should get some kind of medal for printing such talented cartoonists. The history goes that Hef himself was a frustrated cartoonist. Whatever, he has excellent taste. It should also be noted that Winnipeg born, Michelle Urry was the comic editor from 1974 until her death in 2006, for 'Playboy' and her taste was at as high a standard as Hefner's. The variety and style of art within the pages of 'Playboy' were in a category unto themselves. While I was doing research for this show I was surprised how little information there was on the cartoonists of 'Playboy' magazine. I expected there to be an epic website, lovingly detailed. I guess only in my dreams. If I still lived in Vancouver, I would do it in a heartbeat. Because I know where there is a complete collection, which would've allowed me to do a thorough research job. So, if anyone in Montreal has the entire 'Playboy' run, let me know. I just want to copy down information and possibly scan all the cartoons. If you haven't noticed yet, I'm so in love with my scanner. Thanks Efraim!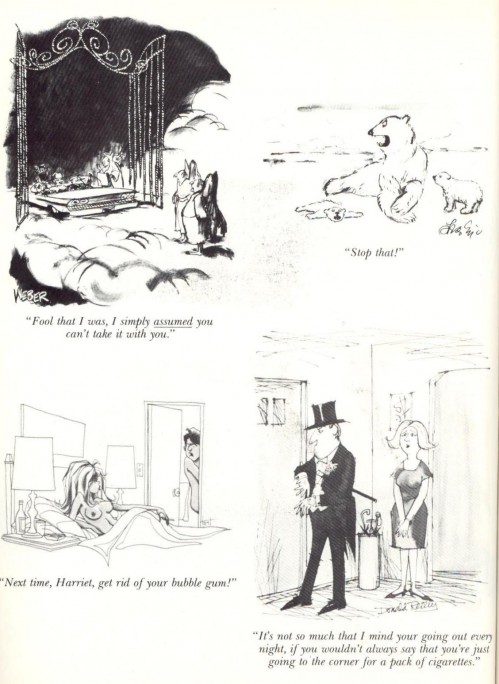 PLAYLIST
Batman TV Theme
Cy Coleman – Playboys Theme
Shel Silverstein – Freakers at the Freakers Ball
The Drifters – He's just a Playboy
Gene & Debbie – Playboy
The Fairlaines – Playboy
The Marvelettes – Playboy