13. Fashion Illustrators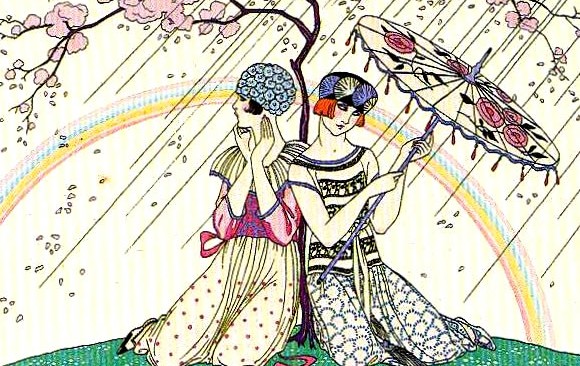 Podcast: Play in new window | Download (Duration: 59:28 — 54.4MB)
So besides loving comics beyond all belief, I also have a secret passion for fashion. (Again, I completely blame the evil brainwashing of 'Jem and the Holograms.' "Glamour and glitter, fashion and fame!") This includes a 1940's Singer sewing machine, a tower of fabric that reaches to the top of my ceiling, every notion you could possibly think of or need, boxes and boxes of patterns and hours upon hours of fashion television.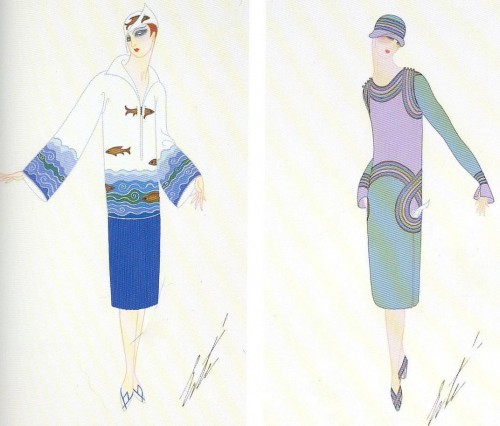 ERTE
The first taste I had of fashion illustration was Erte. Renowned the world over, he really was the best place to start. Born in the late 1800's in Russia, he moved to Paris to start a career in design. After receiving a commission from "Harpers Bazaar' in 1915, Erte continued to rise to great prominence during the 20's and 30's as a prolific and intricate fashion designer, illustrator, set designer and costumer. Forgotten by the 40's, it was an art dealers determination that got Erte noticed again in the late 60's, to an even wider audience, with an even greater appreciation.  His attention to detail is sublime.  I think his designs are extremely creative, to the extent of attempting to create my own Erte inspired piece.  I also find him to be a master in colour composition.  His scenes are intense and stunning, and not without humour.
Erte:  the fashion designer/illustrator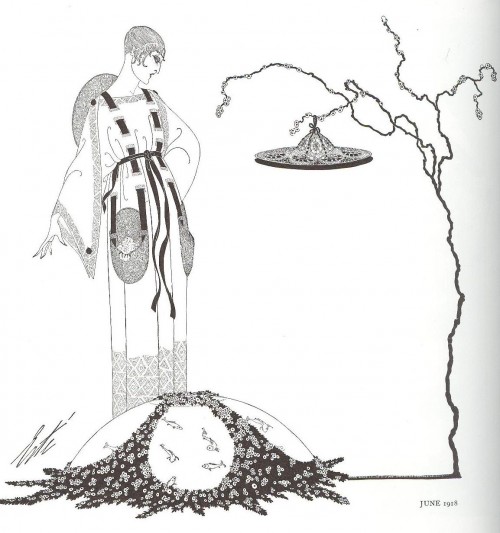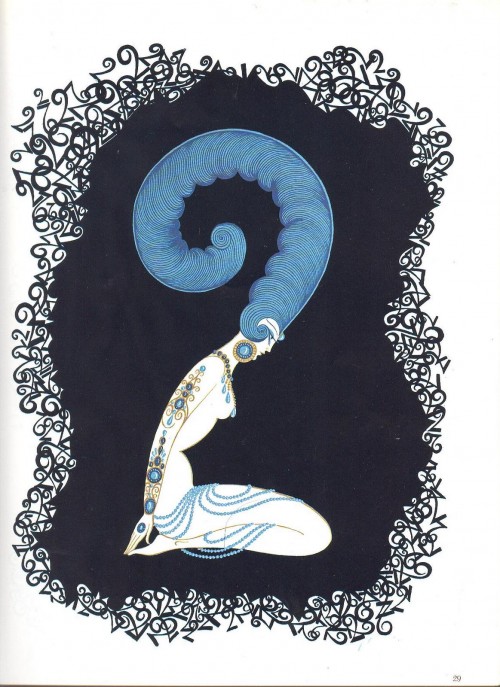 Erte: the costumer/model
Erte: the set designer
Erte: the cover artist
Dreams become reality.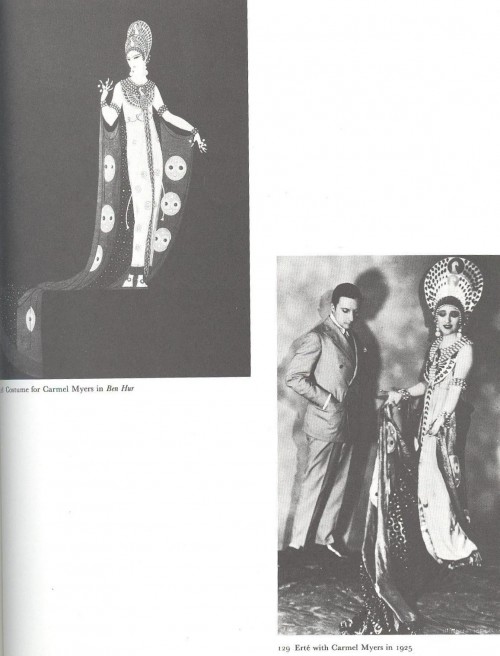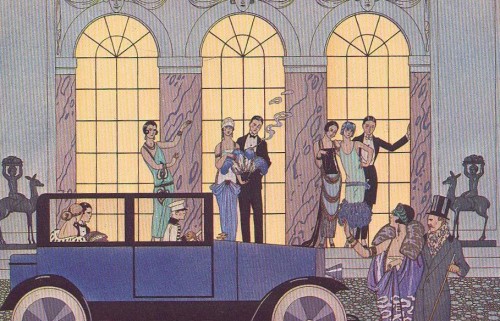 GEORGE BARBIER
My exposure to George Barbier was a collection of his postcards found in a quaint little shop in Niagara on the Lake.  (It's where the 'rents live.)  Barbier was born in 1882 in France.  He came to national attention when he mounted his own exhibit in 1911.  What I enjoy of Barbiers work is the innovative way he has to showcase fashion, as well as his attention to detail in regards to background.  I'm also partial to his palate.  Lastly there is always a story going on in the wings, due to his clever set up of characters and scenes.
BENITO
Born in 1892 in Spain, Benito was the designer to make the flapper figure fashionable.  At the age of 19 he moved to Paris and became established as a fashion artist.  For over 20 years he was a cover artist for 'Vogue' magazine.  What sets Benito apart from the others is his ablity to control where your eyes go with his composition.  He also injects a subtle humour to his pieces.  (Man, does that dog make me giggle.)
LEON BAKST
A new discovery for me, Leon Bakst was born in the mid 1800's, Russia.  He did a fair amount of costume illustration and design, that was heavily influenced by the Orient.    I'm completely blown away by how passionate and tempestuous these pieces seem.  There is way more going on than just fashion illustration.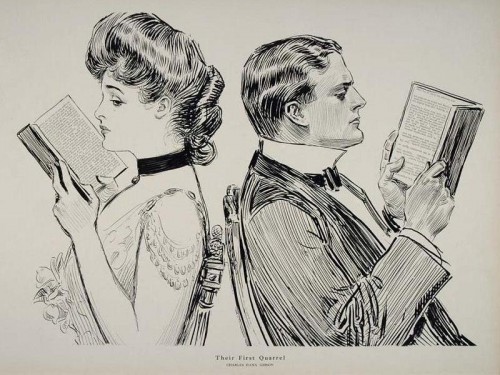 CHARLES DANA GIBSON
Everybody knows Gibson, he spawned a whole style of girl.  Born in 1867, Gibson studied at the Art Students League as a teenager. He started contributing to 'Life' in 1886 and continued to do so for over 30 years. He was a prolific illustrator, his work appeared in 'Harpers' and 'Colliers' Magazine. 1890 brought the wide spread success of the new feminine ideal, The Gibson Girl. Named so after the lythe, stylish, modern, fun girls Gibson drew. In Gibson's later years he was editor and owner of 'Life' Magazine.  Personally I'm really taken with his fine line, no one can capture chiffon and hair like Gibson.  I also enjoy the humour you can see in some of his illustrations.  They are not always just life studies.
RENE GRUAU
Gruau's influnce can be seen everywhere from comic books to current advertisements. Born in 1909 near Paris, his fashion illustration career begun in 1924. By the 40's, Gruau's images were synonymous with Dior, Balenciaga and Givenchy. In the 50's he left France for the United States and worked for 'Harpers', 'Vogue' and 'Flair' Magazine. His simple yet beautifully brilliant compositions, elegant brush stroke and his economical but stunning use of colour, all make his images arresting and enduring.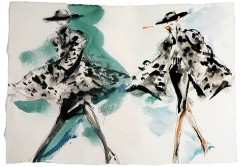 JOE EULA
Eula was born in 1925. He served in the American military and was discharged in 1942. He first received wide spread recognition as the artist of Eugenia Sheppard's fashion column in the 'New York Herald Tribune' in the 50's. He's done numerous album covers, concert posters, and costumes. In 1970 he became Halston's creative director. As a fashion illustrator his art is brisk and brilliant. He had a real eye for form and expressed it simply and violently with the sparest of line. His colour was sumptuous and his contour delightful. The eye has fun traveling an Eula piece, his style carries you all over the design and the page.
NEW ARTISTS
By the time of Eula, the role of the fashion illustrator was on its way out.   You could hear the art forms death knell as the 80's ended.  But as the 90's rolled in and more people were using the computer as a tool to create art, fashion illustration became in demand again.  By the dawn of the new century even comic book artists were getting in on the scene. Guys like Maurice Vellekoop, Lorenzo Mattoti, Paul Pope and James Jean were using their incredible talent to dazzle and report on the fashion world.
I have two fashion illustration books.  They are thick and they are expensive or I would own oddles.   The first book is 'Fashion Illustration Now' by Laird Borrelli.  It's a really through book with lots of pics on every page and divided into fetching subsections like, 'The Sensualists' or 'The Technocrats'.  Below are some of my favourite artists in the book.   (From left to right, going down.  Ed. Tsuwaki, Hiroshi Tanabe, Carlotta, Kiraz, Jordi Labanda, Tobi Giddio and Michael Economy.)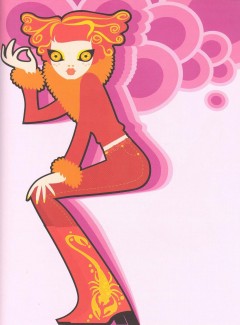 The second book is called 'Mondo Fragile' and it's a collection of "Modern Fashion Illustrators from Japan" assembled by an Italian studio named Delicatessen.  They have excellent taste because I was literally prepared to scan everything in the book.  It was impossible to pick only one pic to represent the awesomeness of each artist.   But it had to be done,I didn't want to overwhelm your senses. (Again, left to right, going down.  Hitomi Nagao, Uyo Takajama, Maccosi, Hiroko Hasegawa, Mamiko Hasebe, Chinatsu Souzen, Haruka Ota, Tadahiro Uesugi, Sai Tamiya and Yuka Maeda)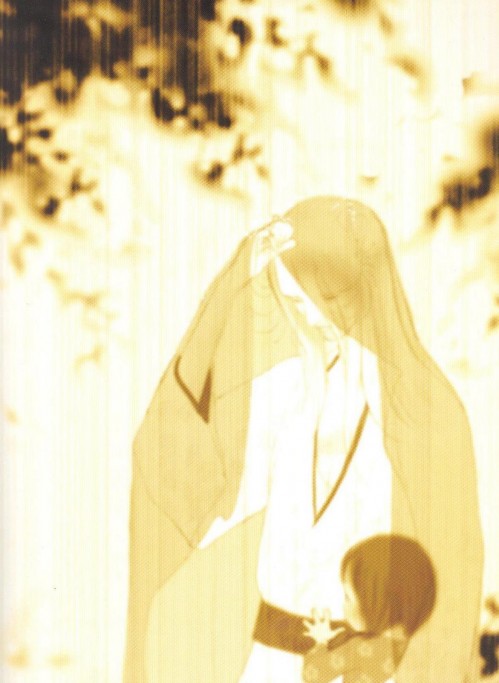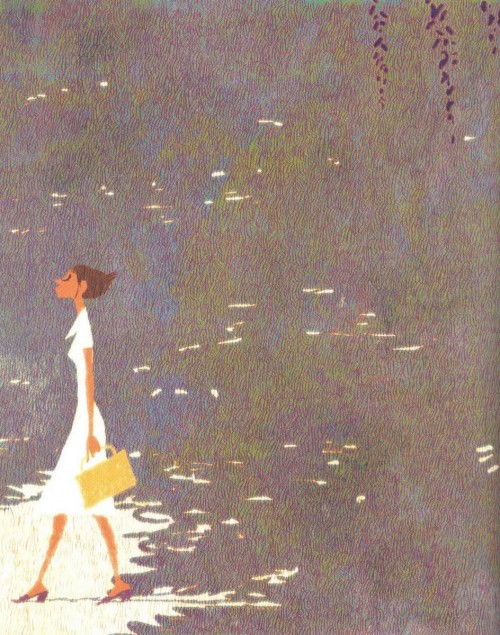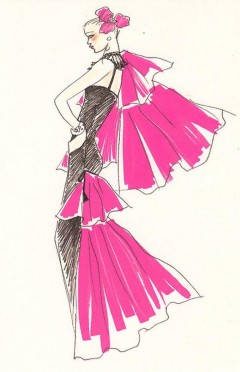 POSTSCRIPT
"The most beautiful clothes that can dress a woman are the arms of the man she loves. But for those who haven't had the fortune of finding this happiness, I am there."    –Yves Saint Laurent (1983)
Seeing the Yves Saint Laurent Exhibit was one of the highlights of my life.  I know it's such a grandiose statement, but the variety and the accessibility of the fashion made it the most enjoyable exhibit I've ever been to.  Fashion is a total escape for me but at the same time it's a medium that anyone can do.   You don't have to be talented to sew a shirt.  You do on the other hand have to be mega talented to be a fashion designer and hopefully you can see that.  Fashion has long been considered frivolous, but it brings such joy in all its forms, how can it be bad?  I know my day totally changes when I see a beautiful dress in a window.  Not to mention the sense of accomplishment I feel after I make my own clothes or look banging in an outfit.  To me Fashion Illustration is the unsung medium of the graphic arts and it definitely deserves more attention.
PLAYLIST
Freezepop – Jem and the Holograms Theme
The Saturday Knight -  Surf Song
Metric – Poster of a Girl
The Faint – The Geeks were Right
Esthero – O.G. Bitch
Korn – Good God