12. DC's Romance Comics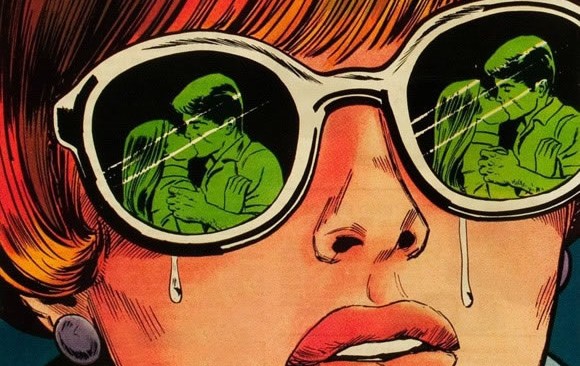 Podcast: Play in new window | Download (Duration: 1:07:24 — 92.6MB)
The whole romance comic genre blows my mind. Think of it, it's a whole style of comic that is written by men, illustrated by men, for women, about love and relationships. As well, they're from the past, which makes their plots and conclusions even more inadvertently ridiculous. The absurdity is so much fun! Sometimes, especially at DC, there are excellent and innovative artists and that's always a treat.
I've been collecting for 12 years and I literally get an incredible high every time I buy a vintage romance comic. I love the colours, the styles, the hair, the stories, the characters, I love it all. I honestly feel that each comic represents a part of womens history, from a male perspective, in the comic world. It was hard to narrow down my collection, so I focused on a specific publisher, DC comics. Of the two main publishers, Marvel and DC, DC is the less schlocky.
Young Romance #1 (vol. 1): 1947 – 1963 (vol. 2) 1963 – 1975
Published by Crestwood then sold to DC in the 60′s. 'Young Romance' was created by Joe Simon and Jack Kirby. The art was a real departure from the bombastic psychedelia of Kirby's later Marvel superhero art. Extremely dated and totally hilarious the last story, 'The Plight of the Suspicious Bridegroom' channels a weird EC vibe.
Some of the more bizarre covers.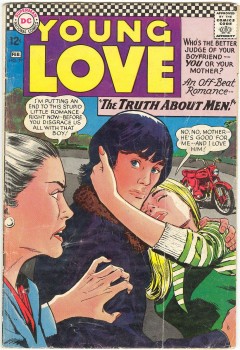 Notice the old lady's death grip, and her daughters sleepy pose!
Girl's Love #75 – 1960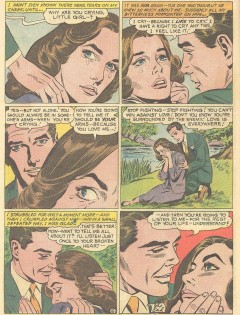 Here to Stay
After getting dumped by Ronnie, our girl buries herself in her work to forget about love. Just read it okay? No really, the ending is the best.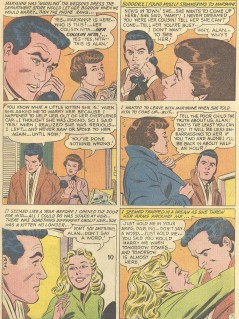 When Tomorrow Comes
Weird war memory involving an old wives tale results in a weak, wayward man. Told from the mans point of view, the whole thing leaves me scratching my head.
Strangest advice column
So I'm guessing these columns started in the late 60′s. I say guess because I can find no information on these guys and unfortunately I don't have every romance comic in existence. The first one I saw was Marc and his advice shtick is to be a chauvinistic jerk. Later on I was introduced to Paul, apparently he's Marc's brother. Though I think hes the same guy with a mustache. Paul's deal is he's nice.
My favourite artists
Elizabeth Berube
I can barely find any information on her. She's considered the last woman to work for DC Romance comics. She started with them in the early 70′s and I adore her style. When I get a romance comic with her art in it, it's a total jackpot.
Ric Estrada
I've only found him in "Young Romance" #162. His art style is very slick compared to the majority, so this issue is a pleasure to read.
Robert Kanigher
This story is from "Young Romance" #194 and it was a social commentary on the struggles inter-racial relationships encounter. Kanigher was an interesting writer who managed to maintain an intense drama within his stories without being cheesy like most.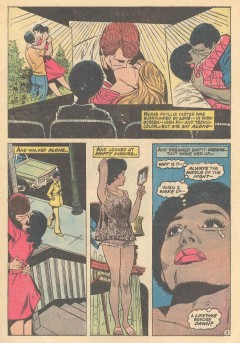 Take the survey below then check out who wrote it in the bottom left-hand corner. (Circa 1975)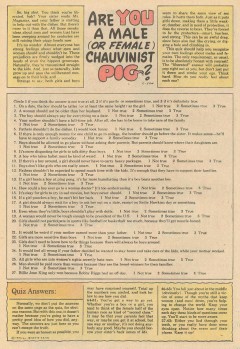 POSTSCRIPT
There are still romance comics coming out to this day. True to life or even recycling the old images for a rewrite. It would require a show unto itself, modern love comics. Regardless, I totally cherish every romance comic I have. The smell, the worn in look, the colours, the inking, the precocious stories written by men, for women. They are perfect little gems. Each issue offering something in the way of style, story or supposed slice of life outcome.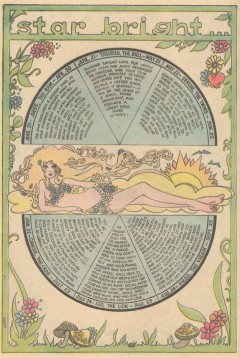 PLAYLIST
Jem and the Holograms – Love is Doin it (to me)
The Bird and the Bee – Fucking Boyfriend
Lamb – B-Line
Yo la Tengo – Damage
Bat for Lashes – Whats a Girl to do?
Postal Service – Clark Gable
Julie Doiron – The One You Love