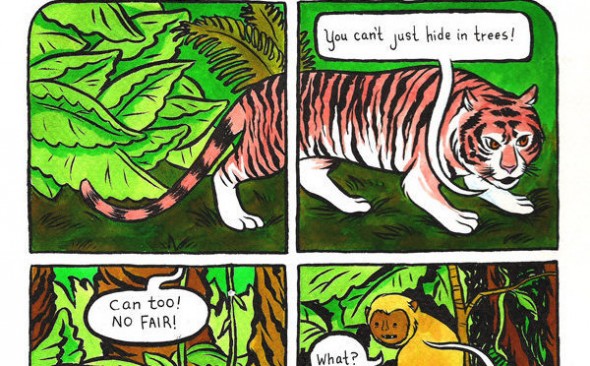 MoCCAfest 2012 10th Anniversary April.28-29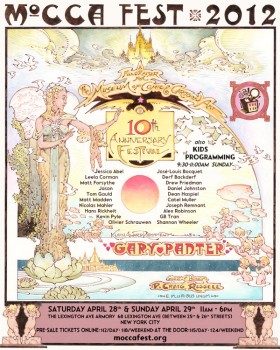 MoCCAfest. I know, you're scratching your head wondering what it is. It's certainly not your standard comic convention, but yet, it's not all that different from Montreal's EXPOZINE. Every year New York City's Museum of Comic and Cartoon Art puts on a festival to showcase and celebrate innovative and alternative comics (usually the last weekend in April). And yes, I did say alternative comics, which means nary a Spider-Man to be found anywhere. This year marked their 10 year anniversary. P. Craig Russel was the guest of honour, and there were several other big names in attendance, but, to be perfectly honest with you, I was attending to discover the unknown.
While this was my first MoCCAfest, each event has a feel to it and I always got the impression that because it was located in New York there would be a higher caliber of local cartoonist. I mean, you have not just one school to learn how to create comics there, but five (the Pratt Institute, Parsons The New School of Design, the Rhode Island School of Design, the School of Visual Arts, the Joe Kubert School). Half these kids are being taught by masters like David Mazzucchelli and Peter Kuper; it's practically a recipe for genius, and in that regard MoCCAfest did not disappoint.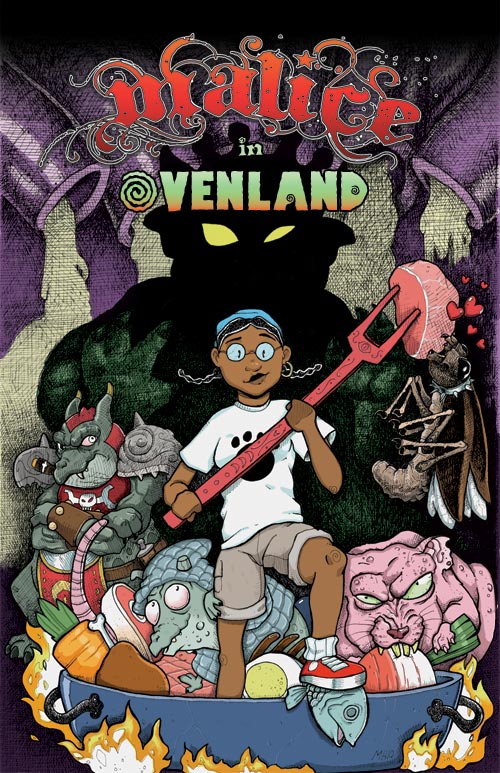 In my first few hours of the fest I met two artists with tables neighbouring a friend's: Micheline Hess, and John Hazard.  Micheline had created a comic series called Malice in Ovenland. It's going to be online and interactive in a "choose your own adventure" kind of way; she even had a sample on tablet you could play with. The cool thing about Micheline was that she was just there to get feedback. She didn't even have anything to sell. Now that's commitment. John's comic is pretty self explanatory. Called Frankenstein Superstar, it's Frankenstein + sexy babes = shenanigans, but his art style is slick, in an animated cartoon way, and begs to be tattooed.

On the first day, I explored the outer ring of tables. The first highlight was Zachary Garrett's Doom Carousel. Beautifully water-coloured tracts about how we are damaging our earth and its creatures. My favourite story was "Up the Intake Valves", or as I like to call it, "The Rise of the Jellies." Fascinating and educational, Doom Carousel had a shrewd dark humour to it, which made it even more enjoyable.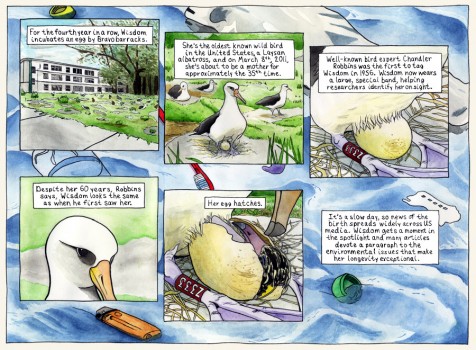 I then came across Dakota McFadzean, who impressed me with his two books, Last Mountain and Unkindness. Last Mountain is a collection of four short stories and Unkindness is one long one; his construction of story is riveting, making both books hard to put down.
Emma SanCartier dazzled with her carved wooden creatures based on her whimsical water colour style. She also had a fantastic kids book called The World is Your Oyster.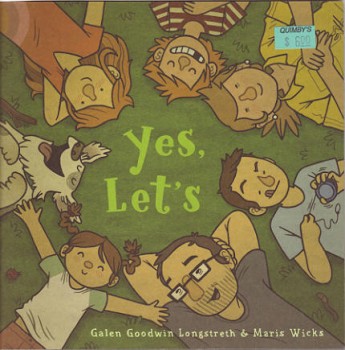 Speaking of kids books, there was a real snazzy one I snapped up by Galen Goodwin Longstreth and Maris Wicks called Yes Let's. It's in full colour and follows a family embarking on a camping trip. Also written in rhyme, it's a busy little affair with lots to keep kids eyes occupied. I've already read it a few times at the daycare I work in and the kids love it, as it appeals to all ages.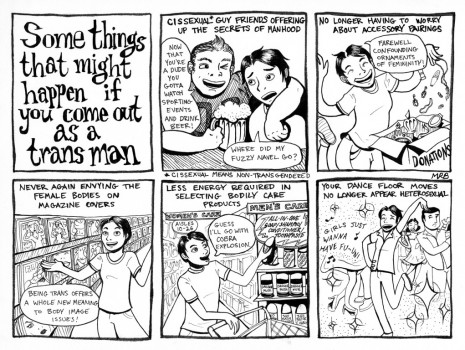 Is it fitting that at the edges of the fest, I found my first transgendered comic? Entitled What's Normal Anyway?, it's written and drawn with great humour by Morgan Boecher. It's a weekly webcomic that encompasses Boecher's transition from female to male.
Then I stumbled onto All Rumors Are True by Laurel Lynn Leake, a stunning black and white about an androgynous dancer named Scratch becoming an actress for Pansexual Pantheon ("An on going video series….that has defiled 18 religions, so far"). I'm not kidding when I say this book was stunning. Not only was the art full of life, movement, supreme accomplishment, and intensity, but the writing was just excellent. This book had drag queens, sex, battling Japanese gods and goddesses and gorgeous kimonos. It was more fun than a bag of kittens. I really enjoyed it on all levels.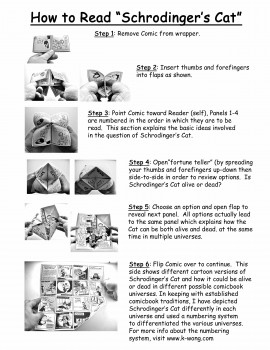 The other comic standout was Ken Wong's Origami comics. I obtained Schrodinger's Cat. In the form of a fortune teller, Wong lays out the Schrodinger conundrum. The reader interacts with the story by discovering the various outcomes of the cat while playing the fortune telling game. It's comic genius. Wong has other shapes, like Pandora's Box, which regales the tale of Pandora, or the sci-fi tale in the shape of a flexagon! The first one came about after an argument with a friend over the things web comics can do vs. the things paper comics can do. They are really clever little pieces of comic art, and I love that the reader participates in the story.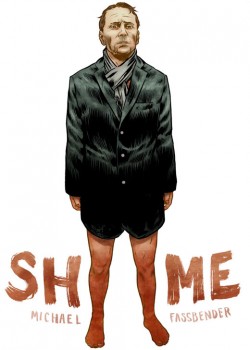 Now one of the mega-interesting things for me at MoCCAfest is that there were these mass contingents of cartoonists from other countries. There was a Danish collective, a Norwegian group, a small swathe of Swedes, as well as the Caravan of Comics (a group of 11 cartoonists from Australia). While all the groups were filled with talent, I had to be picky and bought one Swedish book and two Australian ones. The Swedish book was actually a sketchbook by Niklas Asker and while the art was quite photo-realistic, it was how he composed his images that left you staring. The cover alone has a stoic skinhead with a blossoming tree man in his lap(?!). Asker is very accomplished as an artist. The book is full of unfinished pencilled comic panels, pages from his sketchbook in pencil or sharpie, fully inked covers and interior illustrations for magazines. It seems like your basic sketchbook from the outset, but I have found myself looking at it over and over again. So, of course, it's now my mission to find comics by this guy, even though I won't understand them.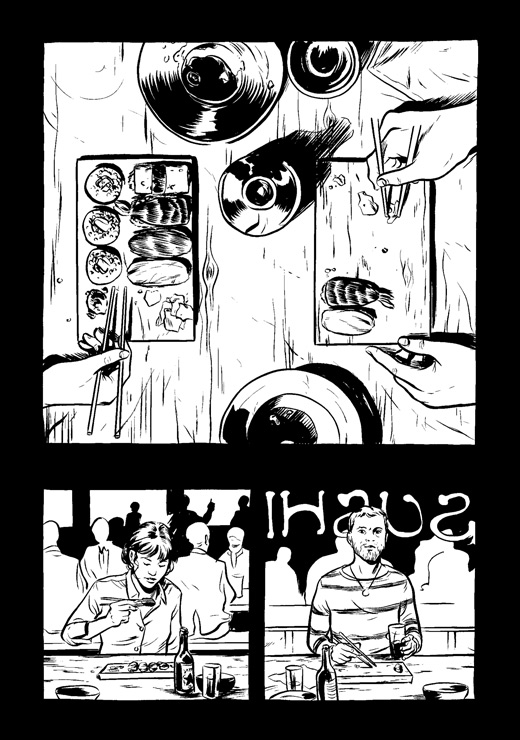 From the Australian group I snapped up a copy of Mad Bonaz 4 Lyfe, written and illustrated by Andrew Fulton. I found his style reminiscent of Scott C's, but still very appealing. Fulton's weird, wobbly inking style looks like it was drawn by a pen from the 1800s. It's super charming and the story, though sparse, is a true love tale for gay men everywhere. Matt Taylor's Lars the Last Viking goes to The End of the World, on the other hand, threw itself at me. It's not the typical comic I gravitate towards, but the amount of effort (Viking font!), style (all in rhyme!) and bombastic inks made it a lot of fun to read. A very cool but incongruous piece of work from a resident of the southern hemisphere. There were other comics I picked up on Saturday, but these were the best of the best.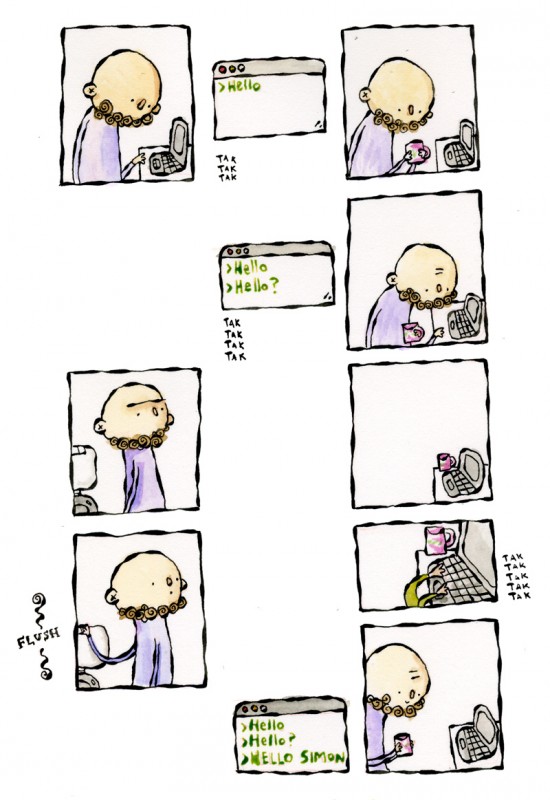 Besides all these fantastic comics in the offering, MoCCA also had a series of panels occurring all day. Really great ones, too, like the Comic Carousel hosted by R. Sikoryak and featuring Micheal Kupperman, Shannon Wheeler and Leslie Stein. This also included voice re-enactments with famous folks like Scott Adsit from 30 Rock.
There was also a Nordic Roundtable, and a How to Make Comics instruction panel by Jessica Abel and Matt Madden. The only panel I attended all weekend was the interview with Hans Rickheit; while I was interested in what Rickheit had to say about his wicked and weird surreal comics, I found the interviewer really fell short. The program listed Hans as a musician and performance artist. I was very interested in learning more about his work outside of comics and how it informed his comic work, but it wasn't even mentioned. In this regard, I expected better of MoCCA.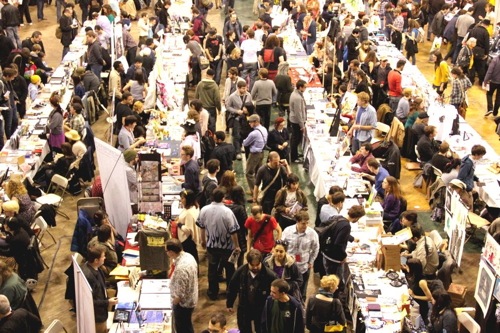 On Sunday we woke up raring to go. When we got to the fest, I set to accruing interviews and tackling the middle rows. The sheer amount of talent and product was almost off-putting. Not only was it awesome comic overload, but practising the self discipline to not buy was hard. "Oh gosh, this is really good. I love it, but I really can't spend anymore money. Do you have a card… ok, I must own this, where is the nearest bank machine?" I had this conversation with myself at least four times (And yes, now that I am back, I've been living on Kraft Dinner for the past week. Damn you comics! Soon I will live in a van, made out of comics, down by the river.) Anyways there were so many things that I purchased on Sunday I figure the best way to present them is to organize them into themes.

So the first category was one I was trying to avoid all con but found myself unable to abstain from: the cute girl comics. I don't know if it's because of Scott Pilgrim, or just that more girls are doing comics, or that the European style is starting to look a little manga-ish, but there is a glut of these things. Sophie Goldstein did these adorable mini comics, one about a dopey owl and the other about Wally the Waffle Iron. Ellen T. Crenshaw introduced me to the hourly comic (for those auto-bio comics that don't go into enough of the artists life minutia).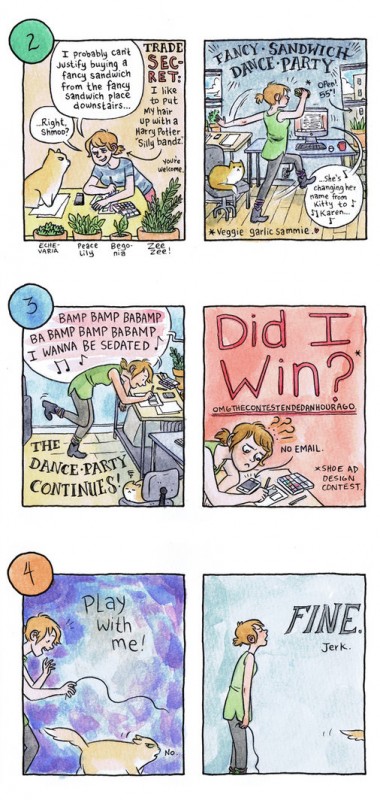 The hourly comic theme was continued in Lucy Knisley's book Make Yourself Happy. Lucy has a super clean, almost animated art style that's real tight, sorta Herge-ish, but the content of the book was typical. Sometimes I wonder if auto-bio comics have taken over for traditional letters, mostly because Make Yourself Happy felt like an update from a long lost cousin in Kazakhstan who doesn't have the internet. The highlight for me, though, was the comic recipes in the back. There was one for Chai tea (my fave!) and one for pickling pickles. I know I can easily get these recipes online, but somehow I'd rather follow along in Lucy's book. I think she's onto something and I hope she does more. (Since the fest, I've found that Lucy has a major online presence and makes these gorgeous painted journal comics.)
The last of the cute girl comics that I bought was Liz Prince's Alone Forever. Initially I resisted Ms Prince's work as it always seemed like a Jeffery Brown knock off (an artist whose work I don't really enjoy), but after reading Alone Forever, it's my favourite of the cute girl comic crew. Prince has a definite charm to her drawing and writing. I certainly found Prince's trials and tribulations easier to relate to than Knisley's. While both have this indie/hipster/bohemian/nerd vibe, Knisley comes across as one of those put together chicks up in the Plateau, where as I know Prince would reside in my hood, Parc Ex. Knisley's book was an enjoyable read, but Prince's made me laugh out loud many a time. You can now consider me one of the Prince legion.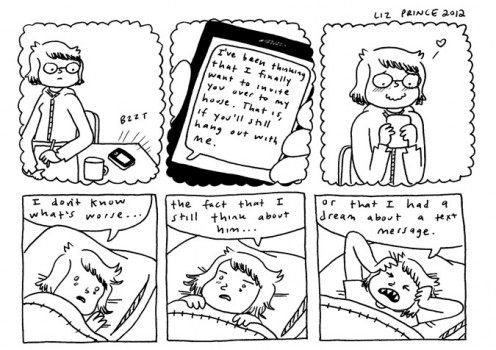 The second category I call the Super Glossies. Again, there were so many of these, I had no idea who to choose from. My theory is that you have all these kids getting out of cartooning school and, colour being cheaper these days, they really feel the need to dazzle you with not only their style but the whole package, too. So the first full colour, high-end paper stock books I bought were two by John Seven and Jana Christy. John writes, Jana illustrates and magic happens. Initially I was taken in with their Happy Punk Paper Doll set. Done in full retro-looking water colour with such whimsy and excellent fashion sense, it was a total must have. But there was another book on the table, Dog & Cat. Oh brother, enough with the cute animal comics, thought I. But I read the first page, and that one gag alone made me burst out laughing. Seven's sly humour had caught me. Dog and Cat are sitting at a table playing cards. D: Let's go somewhere different on our walk. C: How about Japan? D: Let me rephrase the question. Sly and sold! In the fall of this year they are releasing three kids books, and the one I'm really looking forward to is A Rule is to Break: A Child's Guide to Anarchy.
Speaking of cute animals, Doreen M Marts has really cornered the market on that. Her Animal Shorts sketchbook looks ready for the Golden Book treatment. It's fully coloured with the kind of colours kids gravitate too, and full of cute bunnies, bears and Mart's dog Baxter Blue Cheese. I was sort of flummoxed as to why Marts was there. I mean, she could be one of the top children's book illustrators, yeah, her art is that good. I demand that Marts start working on a book about the sweetest pirate to sail the high seas, Captain Baxter Blue Cheese. I bequeath that idea to you Ms Marts, now get to work, your fans are waiting (although a book about Baxter on twitter works too, I guess).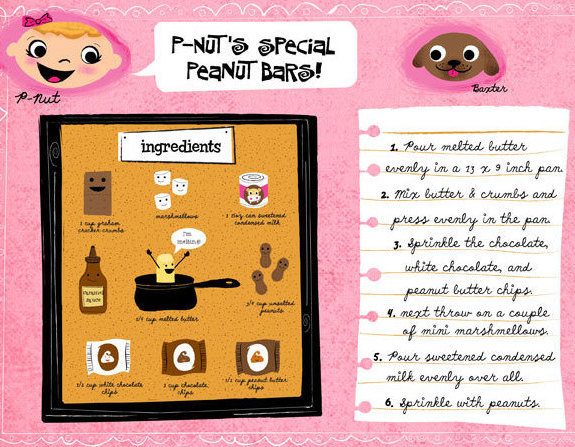 The last of the amazing glossies that we should all be watching on Nickelodeon already was a tasty tour de force called Tiny Kitten Teeth. Illustrated by Becky Dreistat and written by Frank Gibson, there are no words to describe how awesome this book is. If Mary Blair and John Kricfalusi had a love child that could draw, you would have Tiny Kitten Teeth. All I'm going to say is look at the art below and tell me I'm wrong.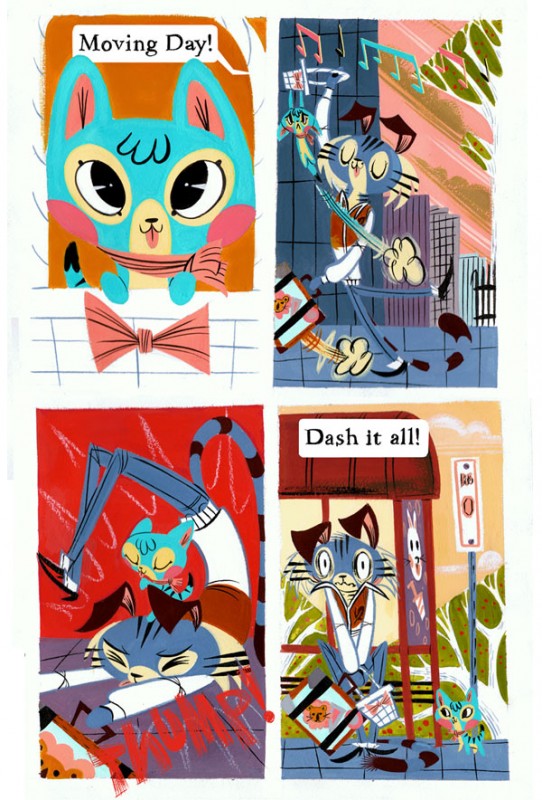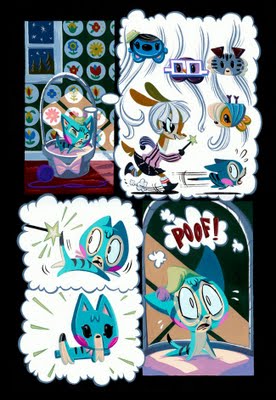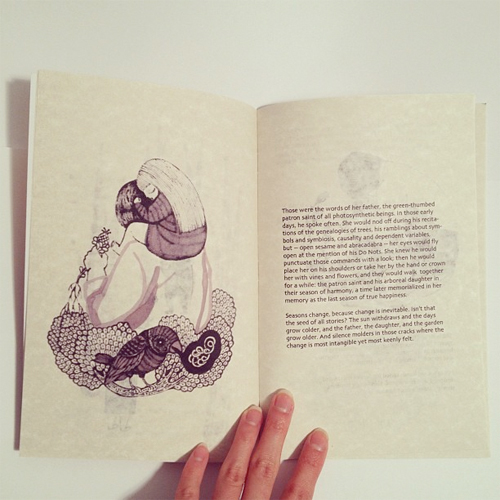 The last category is what my eyes were really peeled for throughout the con: comics that challenge, comics that do something new and innovative. Two comics that just blew me away were, interestingly enough, both done by women. When I saw Susie Oh's book Roots, my jaw dropped and I had to buy more. Roots is images juxtaposed with text so it's not really a comic, but I treasure it none the less. The story is about a girl whose father is the keeper of all nature. The girl becomes jealous of her father's occupation with his work and tears every plant and shoot up. The result of her destructive tantrum is the death of her father. It's haunting in words but also with images. Done in a heavy ink with a style reminiscent of bible illustrations of the 70′s, Roots is a gorgeous work of art. The other book of Oh's I bought was called Dryads and it was more of a sketchbook with a poem on vellum in the middle of the book, yet it was just as gripping. Oh, Oh, you dazzle me so.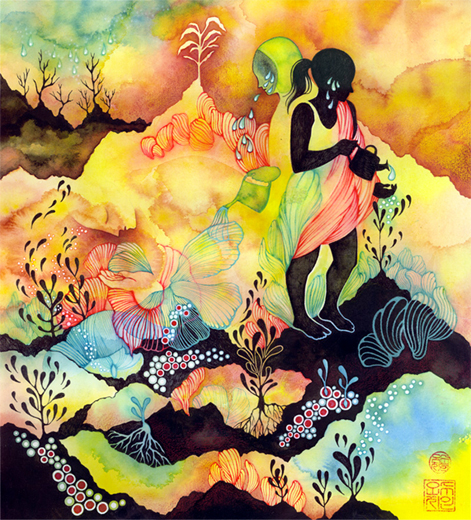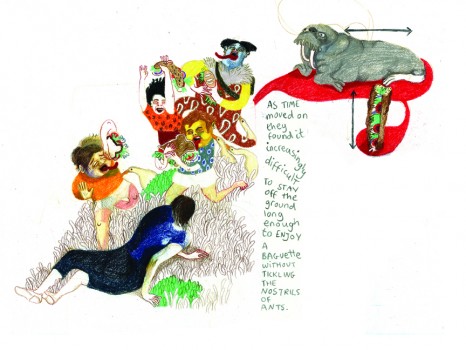 The other artist didn't even have a table at the fest. She was just wandering around handing out copies and I managed to catch a glimpse as she handed one off to Tom Devlin of Drawn & Quarterly. I literally had to chase after and pounce on Keren Katz to see her work. The book was called Before the Dark Gate. The melange of images made it hard to tell where one story ended and the other began, but her artistic chaos just made it even more appealing. Done all in pencil crayon and pencil, you would think it would come across as garish, but not so. There is so much detail and so much to see, its a joy for your eyes to travel the page. There is no panel structure and perspective is totally wonky, faces appear grotesque, but the cornucopia of images oozes life and makes Katz's book an absolute pleasure to look at.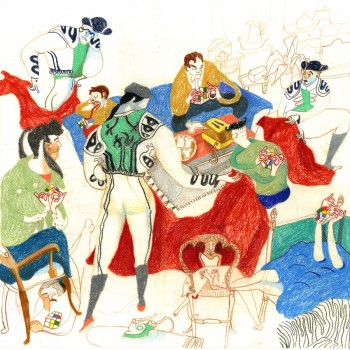 Some miscellaneous things that have no category: Mo Willems was there! He's the creator behind the animated series Sheep in the City. I'm familiar with him because I read his book Don't Let the Pigeon Drive the Bus twice a week at work. He was there doing sketches and I couldn't resist; finally something the ladies at work would actually be impressed by.
Alisa Stern ( http://www.etsy.com/shop/thebotshoppe) was also there selling these adorable teeny tiny robots. They were made out of clay, sculpey and wire, and were super retro cool. Lastly, while chilling at the table with friends, Yen Yen Woo introduced herself to us. Woo has created an interactive, online comic that can also teach you Mandarin, Cantonese and English. Entitled Dim Sum Warriors, it's about the growing discord amongst four dim sum clans. (Fried Kung Academy, Baked Kung Sisterhood, etc. You get the idea). It's for all ages and I was really excited about the language learning component. This is literally an audio, visual, cerebral, touchable, interact-able and readable comic. The future is here now, baby.

There were also panels all throughout Sunday, like Graphic Novels for Young Adults with Derek Kirk Kim, Raina Telgemier and others; and Memoir Comics with Peter Kuper, Derf and others. Outsider musician Daniel Johnston was being interviewed because his first graphic novel, Space Ducks, has come out. There were also panels on the French comic book scene and the UK comic book scene. All in all, an informative series throughout the weekend.
Lastly, one of the great things about festivals of this calibre is that many of the publishers are premiering books or have giant glossy catalogues full of comics to come. Leela Corman debuted her new book, Unterzakhn. Jessica Abel has a new book coming out in 2013 called Trish Trash: Rollergirl of Mars. Abrams Comic Arts were giving away hefty previews of The Carter Family: Don't Forget This Song. Written by Frank M. Young and illustrated by David Lasky, it's all about June Carter Cash's family pedigree, which turns out to be American Folk/Country music royalty. The NBM catalogue was an absolute drool-fest, with way too many new comics I want/need to mention. Pantheon was handing out cool nihilistic looking Archie buttons to promote the next Charles Burns book, book 2 of X'ed Out. Idiots Books was a publishing company I had never heard of, but they were savvy enough to offer a subscription to get six books a year. All illustrated by Robbi Behr and written by Matthew Swanson, these books look very appealing in their variety. They made me think of Beautiful Stories for Ugly Children.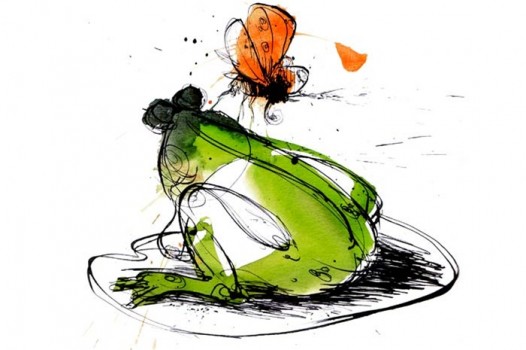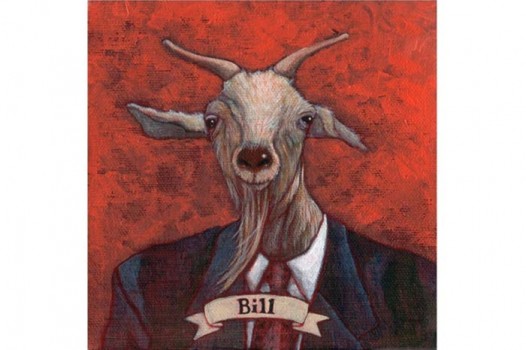 A fun time was had by all and I still have a pile of comics I haven't finished reading. I obtained other neat things like toys, magnets, bookmarks and posters with stellar art that I could tell you all about, but really, the best thing to do is just go. New York is not so far; take the Magic Bus, get a room on the Upper West side at the Jazz Hostel and you are aces. I know comics have become quite popular and glitzy these days, but there is still a bastion of believers that are doing their best to create beautiful works of art, accompanied by excellent storytelling. It is not to be missed. Walking back to our hotel, I snagged a poster taped to a pole: Les Thugs, a new comic posted every Wednesday. We were far from the Armouries, but we were still feeling the graphic art love.
Originally published on the CJLO Online Magazine   in May 2012.  *Photo of fest courtesy of Shahriar Shadab  *Header Image = Lucy Knisley